The spicy rice is something that we do not commonly hear. However, it is tangy and comes with a load of health benefits, if you must say so. The rice preparation is quite easy and straightforward, to say the least.
You can prepare it from the comfort of your home. The tasty spicy rice pilaf has more than 250 calories. That makes it a healthy dish. Whenever you arrange a meal, always make sure that it is healthy and can be consumed by one and all.
Method
Spice is right for your health. It comes with several benefits for your body that you would want to beware of. To prepare the rice dish, you will need some sliced onions, butter, roasted red pepper, and sliced mushrooms.
You also require some red pepper flakes, cloves of garlic, uncooked rice, chicken stock, black pepper, and salt. The dish takes close to 45 minutes to prepare. You would want first to start the preparation using a large cooking pot.
Melt some butter over it on medium heat. Then you will want to add the onions and cook it for minutes until it becomes brown in color. Then you need to add the garlic, red pepper, and mushrooms.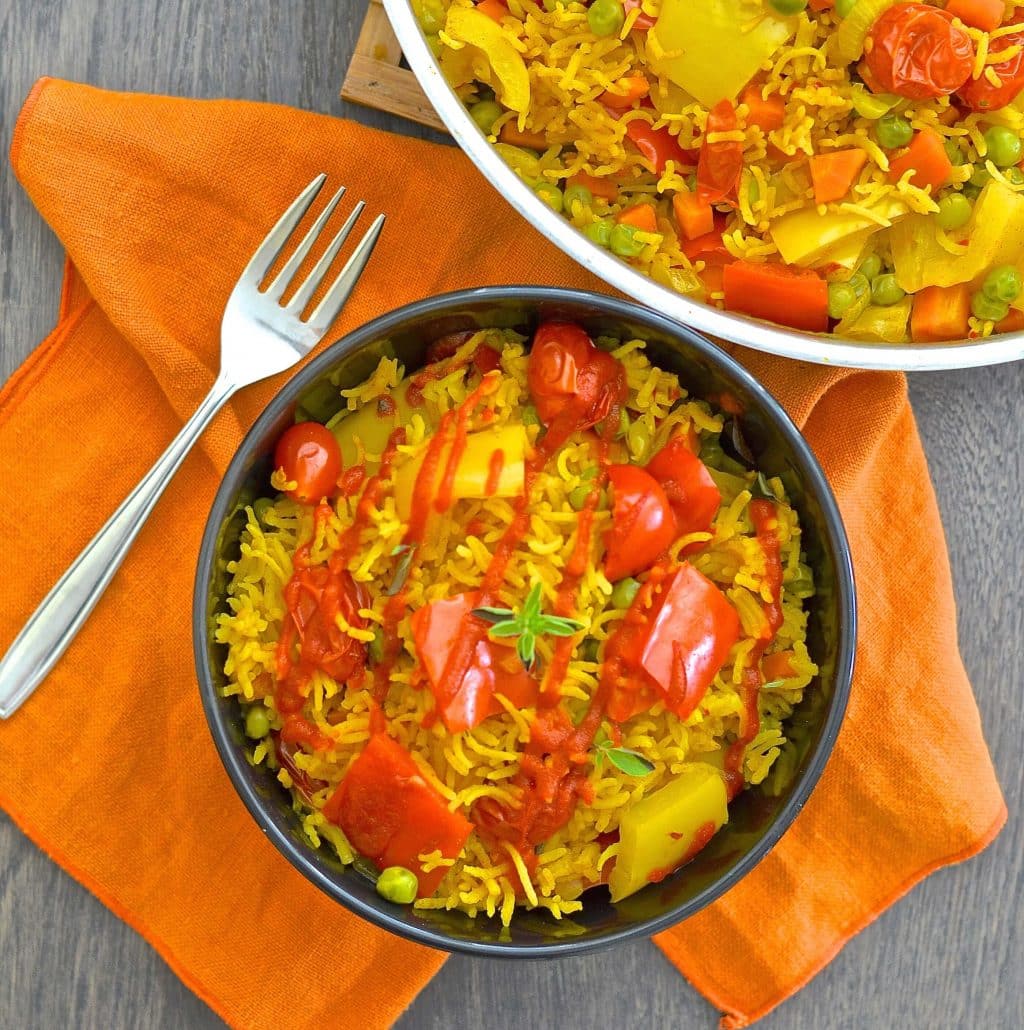 Cook all of them for 15 minutes. You can now stir in the uncooked rice in there. To that, you must add some of the chicken stock and cover it. Cook it for 15 minutes. The dish can be seasoned with black pepper, salt, and some red pepper flakes.
The rice usually takes 30-40 minutes of medium to high flame. However, it depends on the kind of rice you are using for the preparation. When you are using a quality variety, then it might not take too much time.
Again, your taste and preference matters. If you want it to be al dente like the Italians prefer, then you can do so. Supposing, you like it soft and tender like the Indians, then you can go ahead too.
What Goes Well With Spicy Rice?
How about preparing a sweet and spicy chicken recipe to go along with the seasoned rice? To do that, you will need some brown sugar, soy sauce, honey, chopped fresh ginger root, hot sauce, chopped garlic, pepper, and some salt.
You will need some boneless and skinless chicken along with some vegetable oil to cook. The chicken dish takes 20 minutes to cook. That is not long. It can be ready quickly. Take a small mixing bowl and add the soy sauce, brown sugar, honey, hot sauce, ginger, and garlic.
You will want to add some pepper and salt to it. Using a skillet, you need to add some vegetable oil to it. Now, you can add the chicken to the mix and fry it until it becomes brown in color. Cook it for some more time, until the sauce thickens.
You can add your variation to the dish by cutting some broccoli to it. The broccoli livens up the food item and gives it that health factor that you were looking for. This is something that you will want to consider.